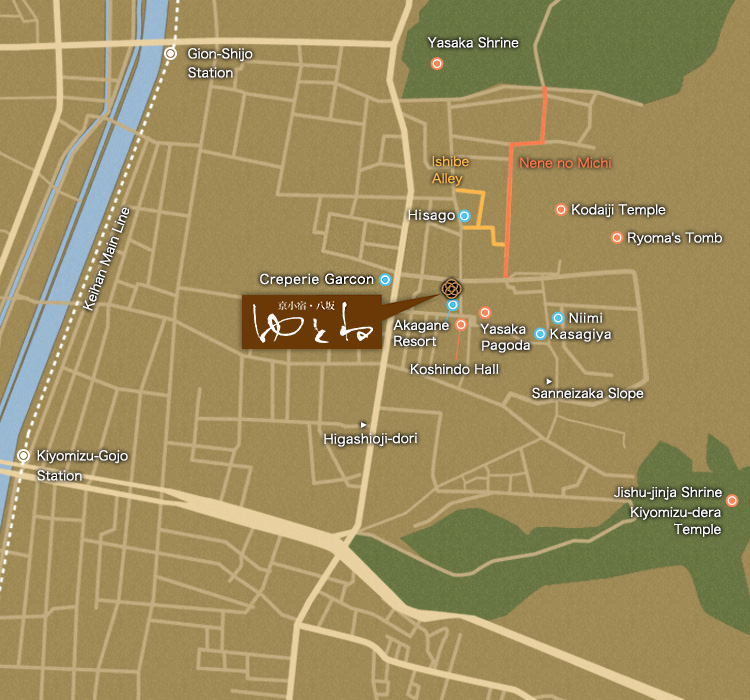 Sightseeing spots
Shops recommended by staff

Koshindo Hall

1 minute's walk (60 m)

Koshin has the meaning of the seventh sign of the Chinese zodiac, which is the monkey. It is said that if you keep on making a wish all night on the day of Koshin, that wish will be fulfilled. The Koshindo Hall is also famous for the Kukurizaru (monkeys with bound feet and hands) that are hung under the eaves of houses nearby.

Nene no Michi

2 minute's walk (140 m)

The street in front of Kodaiji Temple is commonly known as "Nene no Michi (Nene's Street)." This is because located on the street are Kodaiji Temple and Entokuin Temple, which are temples related to Nene, the legal wife of Hideyoshi. The stone-paved street has the unique atmosphere of Kyoto, and is a place where many rickshaws stop.

Ishibe Alley

2 minute's walk (180 m)

At around the middle of Nene no Saka, you will find an alley surrounded by stone walls.
It has become a popular spot for its unique ambiance.

Kodaiji Temple

4 minute's walk (350 m)

Yasaka Shrine

5 minute's walk (400 m)

Yasaka Shrine is affectionately called "Yasaka-san" by the people of Kyoto. The deities of beauty and matchmaking are enshrined in the precincts.
Many annual events, like the New Year's first visit to the shrine and Gion Festival in summer, take place at the shrine, with Maruyama Park, famous for its weeping cherry tree, on the east side of its precincts.

Sanneizaka Slope

6 minute's walk (450 m)

This slope, also called "Sannenzaka", is lined with numerous souvenir shops and eateries, as it links Yasaka Shrine, Kodaiji Temple, Yasaka Pagoda, and Kiyomizu-dera Temple. The traditional streets of Kyoto live on here at Sanneizaka Slope, designated as one of the Important Preservation Districts for Groups of Historic Buildings.

Kiyomizu-dera Temple

10 minute's walk (700 m)

This is the head temple of the Kita Hosso sect, and its honorific mountain name is Otowayama. Its history dates back to before the transfer of the capital to Heian-kyo, and it is registered as a UNESCO World Heritage Site. On December 12th each year, Kanji (Chinese character) Day, the Kanji of the Year is announced.

The phrase, "Jumping off the stage of Kiyomizu" used when doing something audacious is well known.
* The restoration of the main temple roof started in February 2017. Check the Kiyomizu-dera Temple website for details.

Jishu-jinja Shrine

11 minute's walk (800 m)

* The opening hours and services available vary depending on the shop.
Akagane Resort

1 minute's walk (47 m)

Daikoku

1 minute's walk (83 m)

Opening hours

11:00~15:00
17:00~21:00

Passing down genuine flavors to the next generation; a restaurant where you can enjoy meals that use natural ingredients, at a reasonable price. After experiencing a little bit of luxury, how about purchasing one of the restaurant's famous Shio Taimeshi (sea bream on rice) Kits for a souvenir?

Hisago

2 minute's walk (160 m)

Creperie Garcon

2 minute's walk (130 m)

Niimi

3 minute's walk (270 m)

Kasagiya

4 minute's walk (300 m)

Opening hours

11:00~18:00

Zenzai (red bean soup) containing plenty of Dainagon red beans from Tamba. The gentle sweetness and the aroma of the rice cakes are irresistible. As the haiku, "Ninenzaka, where sweet-lovers cannot pass without stopping" would suggest, this is a Japanese cafe you will never forget once you have visited.